CONTINUOUS REAL-TIME MONITORING OF PRODUCTION ENVIRONMENT TRAFFIC WITHOUT IMPACTING LATENCY, AVAILABILITY, OR PERFORMANCE
Read the HYAS Confront Datasheet to Find Out What Might Be Lurking in Your Production Environment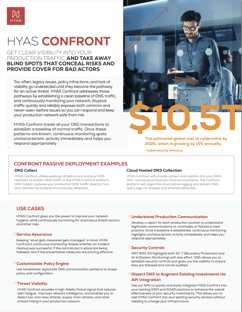 While companies often devote ample resources to securing their digital front door, many aren't paying any attention to the traffic patterns within and exiting their production environments. HYAS Confront provides unprecedented visibility that helps address not only cybersecurity risk but overall production network hygiene, including issues like misconfigurations or inadherence of standards. After a baseline of normal production environment traffic has been established, HYAS Confront continuously monitors communication for anomalies that are flagged and addressed as needed.
Learn How HYAS Confront Allows Unified Signal to Focus on Driving Business Forward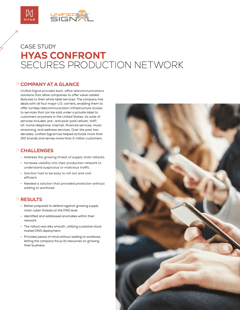 We know security teams are stretched to their limits but still under pressure to constantly improve their cybersecurity architecture. You need a solution that increases your company's cybersecurity posture, not your admin workload. Find out how telecommunications services provider Unified Signal was able to quickly and easily deploy HYAS Confront across its entire production environment and how simple their team found its day-to-day management. Read about their entire experience in our latest case study.
---
Product Highlights
Continuous real-time monitoring of production environment traffic
Quick deployment usually takes less than 30 minutes
Establish clean baseline to understand the difference between legitimate and suspicious communications
Expanded production environment visibility enables implementation and monitoring of security controls
Customizable alerts triggered by advanced anomaly detection
Detect anomalies indicative of ransomeware, phishing, or other malware attacks
Uncover misconfigurations, control violations, and other production network issues
---