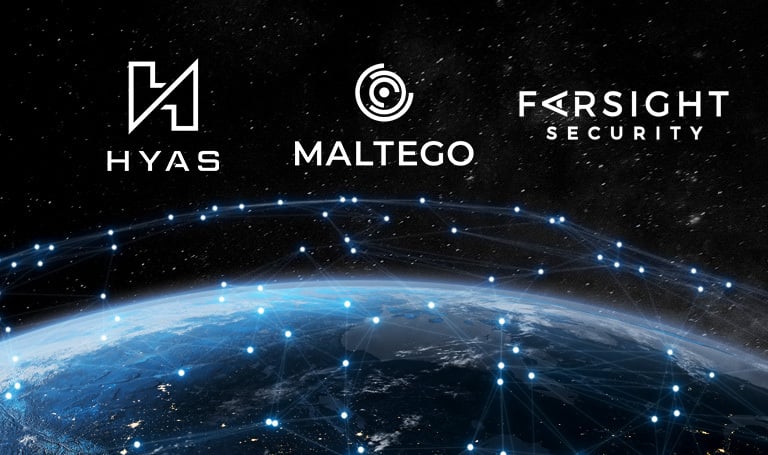 Join us for this live webinar on
April 28th 2021
12 noon EDT / 9am PDT!
As targeted cyber-attacks by notorious adversaries like North Korea's Lazarus Group increase in number and sophistication, enterprises struggle to identify and counter attacker infrastructure. Organizations must quickly identify threat actor infrastructure and its evolution behind cyber risks, in order to prevent future attacks, and safeguard their companies against financial and reputation losses.
This webinar demonstrates how investigators leveraging Maltego's visualization capabilities can combine HYAS' adversary infrastructure insights with the passive DNS data from Farsight to obtain actionable intelligence.
Join practitioners Brian Carter from HYAS, Boris Taratine from Farsight and Roy Boetticher from Maltego to learn how these technologies combine to enable threat intelligence teams, cyber security analysts and government agencies to analyze, enrich and visualize relationships in attacker infrastructure, and take down threats and adversaries.
Attend this webinar to learn:
How to take incident data & expand it into a more complete picture of adversary infrastructure

How passive DNS, domain registration details, & GeoIP data enable tracking actors over time

How real-time DNS can expose attack infrastructure & help threat hunters preempt attackers

Best practices in streamlining threat investigation workflows
About the Presenters
Roy Boetticher

Maltego

Roy Boetticher is a Product Manager of Data Integrations at Maltego. Roy's mission is to ensure investigators always have the best possible data at their fingertips. He enjoys training users to use Maltego as effectively as possible.

Boris Taratine

Farsight Security

Boris Taratine is a Principal Architect at Farsight Security - a passionate visionary and an influential ambassador of cyber security and cyber defence, an active participant in various industry forums influencing global cybersecurity development, an author of a number of scientific publications and dozens of patents granted and pending.





Brian Carter

HYAS

Brian Carter is the Principal Research Analyst at HYAS where he helps customers investigate issues involving specific adversaries.